Ultimate Tech Event enables professional buyers to stock up on high-demand merchandise
BETHESDA, Md., March 14, 2019 (GLOBE NEWSWIRE) — Liquidity Services (NASDAQ: LQDT) announces the Ultimate Tech Event, where business buyers can quickly source a wide variety of consumer electronics including iPads, iMacs, MacBook Pros, MacBook Airs, and other leading laptops, tablets and accessories. The sale, which will feature a number of auctions, will be held March 14-19, 2019 on Liquidation.com, a leading e-commerce marketplace where professional buyers purchase surplus inventory in the retail supply chain from leading U.S. retailers and manufacturers.
"The used device market is experiencing a rapid rise in popularity, and company research shows that 75 percent of consumers say they are likely to buy refurbished electronics," said Jim Rallo, president of Liquidity Services' Retail Supply Chain Group. "Liquidation.com's Ultimate Tech Event is an exciting opportunity not only for consumers to access high-quality manufacturer-refurbished products in order to save money but also a reliable choice for small businesses to ensure their shelves and websites are stocked with desirable inventory, enabling them to help meet the growing demand for quality products on the secondary market."
Liquidation.com serves clients and buyers across the entire retail supply chain. Leading retailers and manufacturers partner with Liquidity Services to ensure their returned and surplus goods achieve high recovery while minimizing their risk and costs. In turn, Liquidity Services is able to make surplus and consumer-returned merchandise to make it easily available for consumers and business buyers, while supporting them with convenient services including secure payment and transaction settlement, integrated shipping services and live customer support. Additionally, Liquidation.com offers its buyers more than just merchandise; through our Buyer Education Center, we partner with our customers through a valuable set of tools to help enable their long-term success.
Buyers interested in the Ultimate Tech Event can easily find, bid on and purchase items through Liquidation.com. To place bids on items for sale, or to participate in any auction on a Liquidity Services marketplace, please register for free today.
About Liquidity Services
Liquidity Services (NASDAQ: LQDT) operates a network of leading e-commerce marketplaces that enable buyers and sellers to transact in an efficient, automated environment offering over 500 product categories. The company employs innovative e-commerce marketplace solutions to manage, value and sell inventory and equipment for business and government sellers. Our superior service, unmatched scale and ability to deliver results enable us to forge trusted, long-term relationships with over 12,000 sellers worldwide. With nearly $8 billion in completed transactions, and approximately 3.5 million buyers in almost 200 countries and territories, we are the proven leader in delivering smart commerce solutions. Visit us at LiquidityServices.com.
Contact:
Liquidity Services
Micah Lillard
Public Relations Manager
202-467-6868 x2221
[email protected]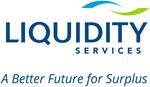 Source: Liquidity Services, Inc.