BETHESDA, Md., March 18, 2019 (GLOBE NEWSWIRE) — Network International, a global online marketplace that seamlessly connects buyers of production, oil and gas assets with leading energy companies, is offering cost-conscious operators a rare opportunity to secure new production and development equipment at online auction. A wide-ranging inventory of unused power-generation and other equipment is currently being sold in a large offshore marine equipment and component sale on the Liquidity Services (NASDAQ: LQDT) marketplace.
Now open for bidding on Network International through Wednesday, March 20, the sale features several power-generation and distribution components, high-speed separator systems, satellite communications equipment, pumps, valves, lighting systems, emergency life boats and a wealth of other associated goods, all new and unused, in nearly 200 separate auctions.
"This sale is an incredible opportunity for interested buyers to obtain unused offshore marine equipment at attractive prices," said Nick Taylor, senior vice president at Liquidity Services. "From pumps and valves to separators and even thousands of feet of mechanical tubing, the enormous variety of equipment can be quickly and effectively deployed across a variety of industries and help operators move to production at a fraction of the time and cost."
Buyers interested in the offshore marine equipment and component sale can view auction details at NetworkIntl.com. To bid on an auction, it is free and easy to register on the marketplace. Viewing and removal is available by appointment only. The final auction concludes at 5 p.m. EDT on Wednesday, March 20.
About Liquidity Services
Liquidity Services (NASDAQ:LQDT) operates a network of leading e-commerce marketplaces that enable buyers and sellers to transact in an efficient, automated environment offering over 500 product categories. The company employs innovative e-commerce marketplace solutions to manage, value and sell inventory and equipment for business and government sellers. Our superior service, unmatched scale and ability to deliver results enable us to forge trusted, long-term relationships with over 12,000 sellers worldwide. With nearly $8 billion in completed transactions, and approximately 3.5 million buyers in almost 200 countries and territories, we are the proven leader in delivering smart commerce solutions. Visit us at LiquidityServices.com.
Contact:
Liquidity Services
Micah Lillard
Public Relations Manager
202-467-6868 x2221
[email protected]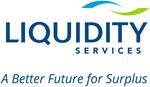 Source: Liquidity Services, Inc.